Teleworkers, all in Carantec!!
They have already worked at CocoLéon
Although opened recently, multiple profiles of teleworkers have taken advantage of CocoLéon's shared workspaces. Thank you to them and to the future residents who will come and help bring the place to life. All in telework in Carantec!!
You also tell us about your teleworking experience at CocoLéon, send us your testimony, thank you.
Leave your testimonial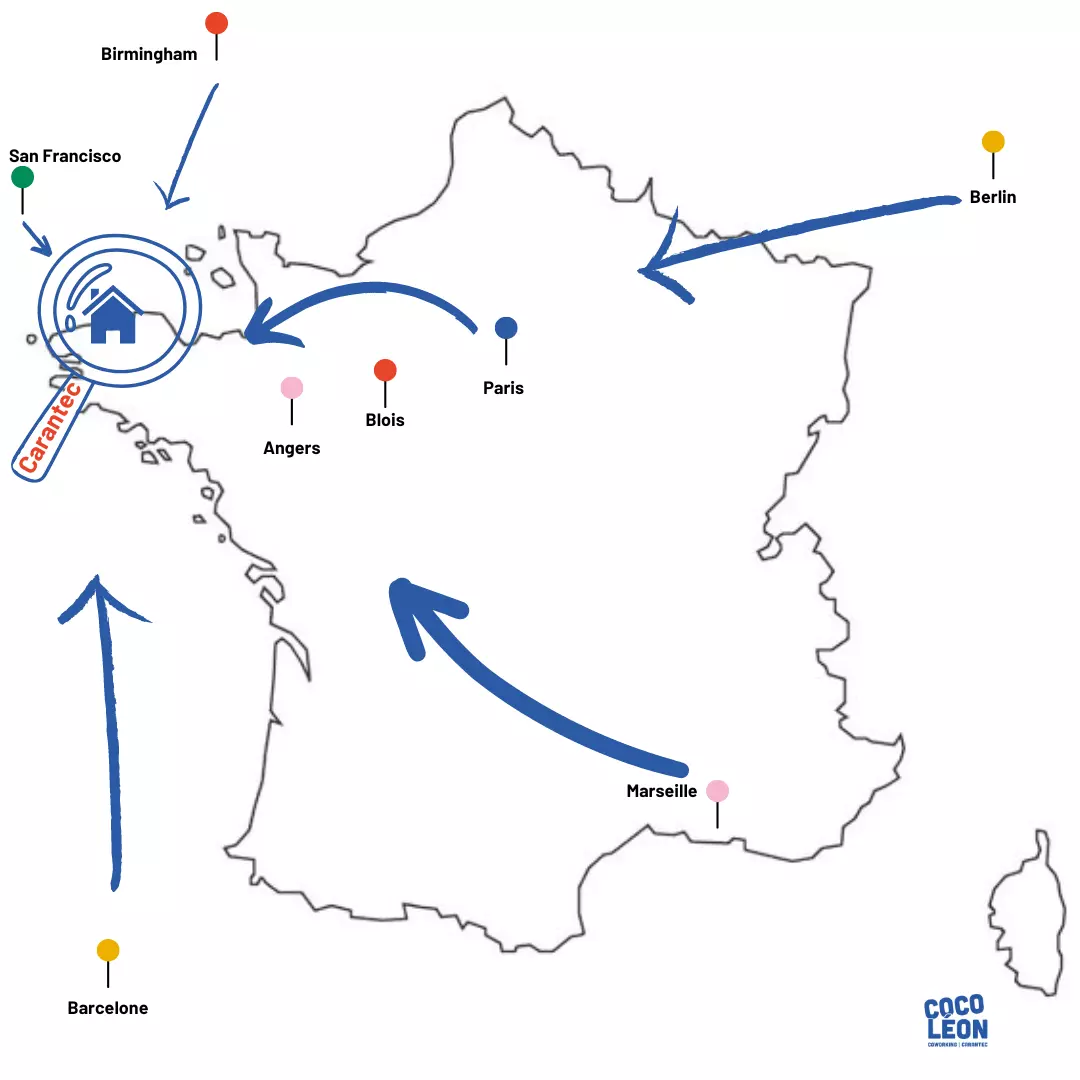 Rodolphe
- Bank sales executive - 56 years old, Paris
An ideal working environment in the most beautiful bay in the world and thanks to Pierre and Valérie for their warm welcome.
Charlotte
- Logistics project manager, 25 years old, Brest
We are in the OpenSpace. I like this room, and when the place is free I sit on "Bizinennou", the office to the west with the sea view ;-)
Thierry
- Construction project manager - 55 years old, Birmingham
Everything is done to ensure continuity in performance in the office, with the pleasure of the sea nearby.
Karine
- Web editor - 60 years old, Angers
That day there was still work and a little noise, but I'll be back as soon as I can.
Caroline
- Real estate project manager - 23 years old, Brest
Great place to work. Calm and friendly at the same time!
Julien
- E-sport lawyer - 37 years old, Paris
Before installing my personal office, I took advantage of OpenSpace to stay with my family on vacation, it was perfect.
Axelle
- Alternate communication - 22 years old, Scrignac
Every 15 days I spend 2 weeks at CocoLéon, it's a change from university. It's quieter, very pleasant to work there. I bring my little lunch dishes for the lunch break into the living space, then a little tea on the sofa, and it starts again. That's great !
Manolo
- Artist - 56 years old, Blois
As I often come to Carantec, I have seen the evolution of the place before during and now, I looooove it!
Nathan
- Web Developer - 30 years old, Barcelona
The conditions are great for telecommuting at Carantec. A beautiful space with screens available. Very close to the port!
Elsa - Digital product planner - 32 years old, Paris
Travis
- Digital Marketing Project Manager - 42 years old, San Francisco
Excellent place! and I was able to work jet lag with California, wonderfull!!
Carole
- Coach manager - 40 years old, San Francisco
it allowed me to extend my holidays and ensure my part-time activities. Otherwise the stay in France would have been shorter.
Nils
- Product manager e-commerce - 34 years old, Berlin
Excellent co-working space. The atmosphere is super relaxed and friendly.
Marin
- HR manager - 32 years old, Marseille
2 months of almost non-stop code, hard hard this period... luckily the place is cool and as soon as the wind picked up it was kite surfing at the port. The best to decompress!
François
- Audiovisual DSI Project Manager - 48 years old, Paris
Axel
- Specialized journalist - 52 years old, Paris
Mathieu
- Datascientist bank - 25 years old, Paris
Christian
- Telecom operator executive - 56 years old, Rennes
Great location, great hospitality!
Jean-Baptiste
- Head of communication agency, 60 years old, Paris
pffff we work better than in Paris here! Should live here pffffff !!
Nicolas
- Senior account executive HR - 36 years old, Paris
Extra the place. At noon it was tennis or sea bathing, a quick shower on site, and I was operational for my video afternoon...
Emmanuel
- DSI retail project manager, 42 years old, Lille
With CocoLéon, I now extend my holidays or long weekends when I come with family to visit family. With the children it's impossible at my in-laws, so day at CocoLéon and in the evening I meet everyone, it's perfect.
Alice
- Architecture-Urban planner - 24 years old, Paris
I love the place, I want to miss my train and stay!!
Edouard
- Audiovisual and event production - 63 years old, Paris
Great team, great welcome, great atmosphere... an ideal space to work with all the comfort of a coworking space while being in Carantec by the water and with the family, I'm going back there as soon as possible but don't Don't spread the word, we risk being too numerous!